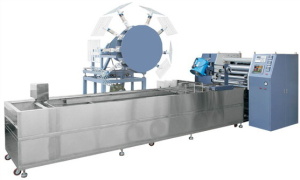 It´s a modern and sophisticated technology of printing objects also knows under the English name – water transfer printing, or less professional – hydrodipping it means water soaking.
Technology of hydrographics

Hydrographic printing can be applied to metal, plastics, glass, wood and to many other materials. The technological precess allows perfect printing objects also complicated forms. Painted object is carefully cleaned by applying backround color before its own process. Hydrographic is printed by graphic patterns.
Corresponding film size is then placed on water surface in the hydrographic application tube. After a few seconds a special chemical aplicator is applied which during a few seconds dissolved hydrohraphic filmand on the water surface is remaining to swim only special paint that was applied to the hydrohgraphic film. Than is the object slowly plunged through the layer of color into the tube and color perfectly clings and fits the surface of printing object. After washing and drying , the printed object is covered by topcoat of varnish which creates matt or gloss surface , durable with unique finish.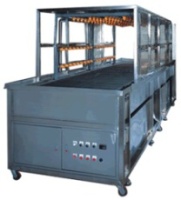 Hydrographics or HydroGraphics, also known as immersion printing, water transfer printing, water transfer imaging, or cubic printing, is a method of applying printed designs to three-dimensional objects. The hydrographic process can be used on metal, plastic, glass, hard woods, and various other materials. Also known as "hydro dipping". In the process, the substrate piece to be printed is pre-treated and a base coat material is applied.
A polyvinyl alcohol film is gravure-printed with the graphic image to be transferred, and is then floated on the surface of a vat of water. An activator chemical is sprayed on the film to dissolve it into a liquid and activate a bonding agent. The piece is then lowered into the vat, through the floating ink layer, which wraps around and adheres to it. After removing the piece from the water, a top coat is applied to protect the design. With multiple dippings, hydrographics printing can achieve full 360° coverage of the part surface, including small crevices.
Using

Motor – car – tuning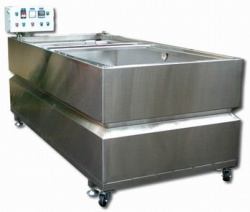 Final efect of hydrographic printing is really impressive and elegant. By using hydrographic film with carbon pattern is possible to achieve perfect imitation of real carbon fibers for example: interior and exterior plastics, plastic parts of rear mirrors, rims atc.Faithful imitations are also film patterns of wood, stone, metal, but also various kinds of camouflage and military patterns.
Electronics and household
The next atractive area of using is printing of wiring components like: switches, sockets, fuse boxes and laps. It can be also used for printing of plastic covers, laptops,mobile phones and various kinds of domestic appliances to give them exclusive and luxury design.
Printing objects and individual parts - indicative prices
| | |
| --- | --- |
| Part / piece | Indicative price |
| Mobile phone covers, electrical outlets, swirches, fuel tank caps and other small parts of car | from 20 € |
| Backward mirrors, central panels/consoles/, smaller home furnishings | from 30 € |
| Helmets, motorcycle´splastic parts, midsize parts of car | from 40 € |
| Aluminium discs, motorcycle fuel tank engine covers | from 50 € |
| Front and back car´s bumpers, wings, spoilers, sills, kitchen units doors | from 70 € |
Prices of services specified in a price list have only informative character. The exact price is determined individusally for each contract. The prices including preparation of surface, applying the base color, printing by chosen decor/pattern/, applying the topcoat varnish and polishing.
Dissasembly and assembly of individual parts provide customers or our company after agreement. Aluminium discs must be without tires and valves.